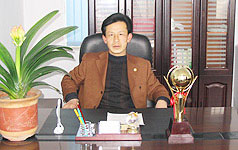 General Manager Biography:
Health in 1963. Recruits in 1981, honored veterans in 1986. Many times in the military during the award, Yantai, Jinan Military Region garrison received "outstanding veterans," the title.
Veterans, the veterans returned Zhi, Start your own business in his home town, after more than ten years efforts, the beautiful stone Timber loaded with a modern, urban Code.
In the 2004 general election, was elected director of village committee. For the development of the local economy, as well as Veterans, played a leading role model.